This flawlessly cohesive kitchen oozes effortless style and timeless sophistication. No doubt our wonderful Mersea Island clients will cherish their beautiful new space for many years to come.
As the heart of our client's new build home, our primary focus was to create a striking contemporary design that would accentuate the bold architectural features of the property, creating an inspiring backdrop for cooking, relaxing and entertaining. As a young family, practicality and durability were especially important to our clients. Our team have dedicated great care to bringing practicality and style together in perfect harmony to complement our client's taste.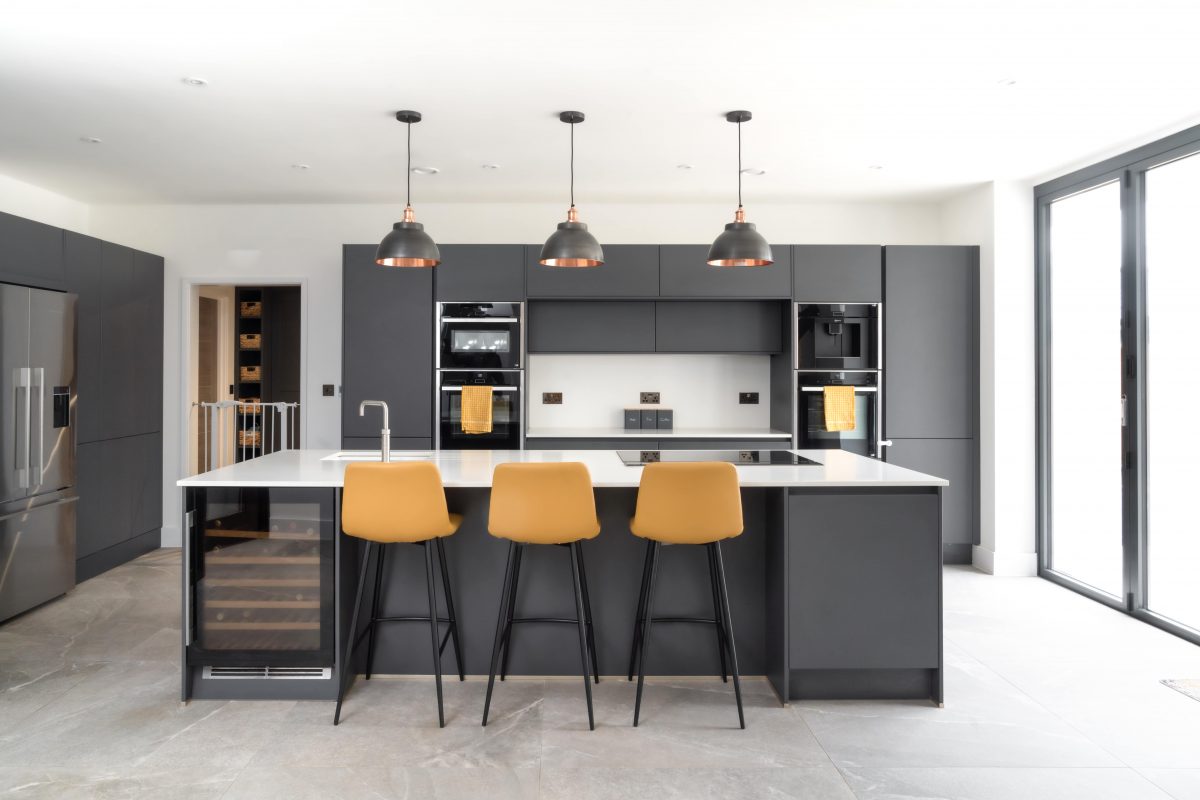 While bright white walls and ample natural light envelop our client's new build home, the striking matt graphite cabinet finish brings depth and drama to what otherwise could have been a rather sparse and washed out space. The on-trend dark colour scheme draws the eye through the open-plan living area, establishing an effortlessly stylish and sophisticated focal point to our client's home. The elegant grey hue also cleverly complements the contemporary internal and external window frames, creating a unified effect.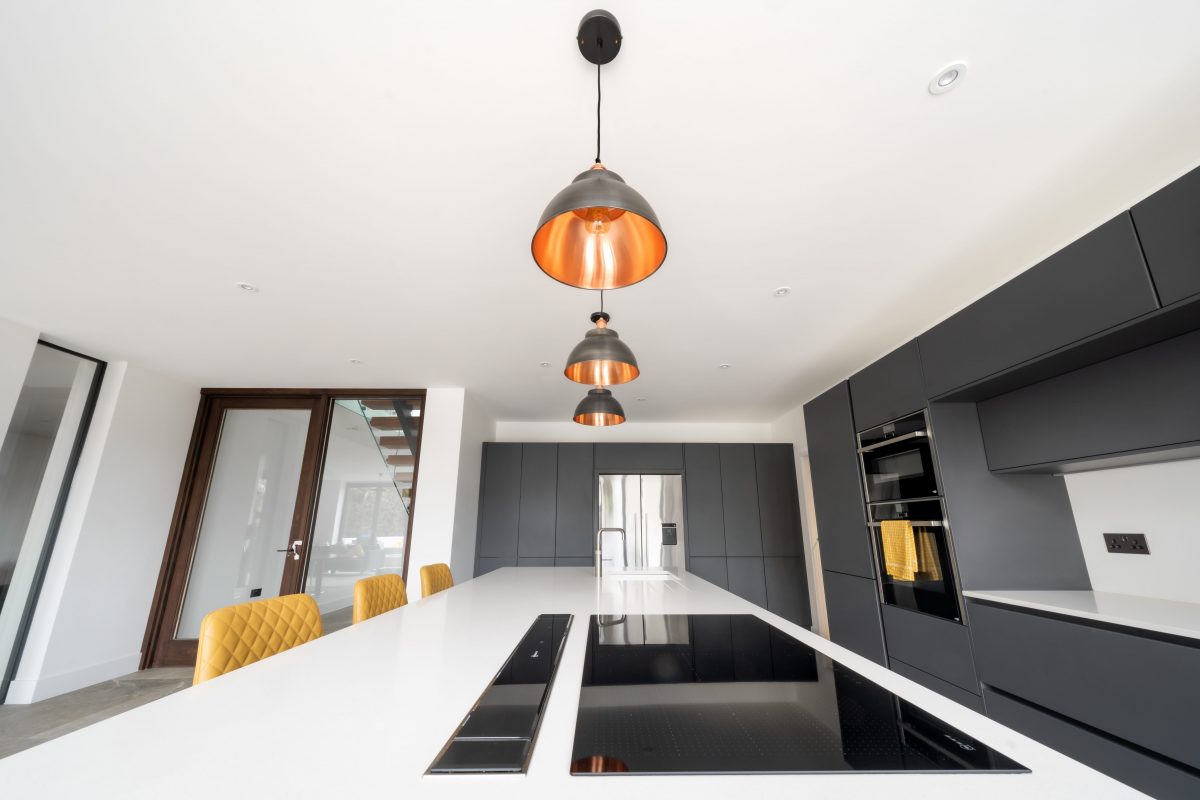 Though the statement colour scheme creates a distinctly stylish atmosphere, the softness of the grey tone and matt finish makes a fantastically timeless choice. Pristine Bianco Ice Quartz worktops enhance the natural brightness of the room, ensuring the space retains a fresh and inviting ambience. The neutral colour palette provides a great canvas upon which to add a vibrant pop of mustard yellow, bringing a touch of playful character to our Mersea Island client's family kitchen.
From the versatile kitchen island to the ingenious, hidden pantry, this exceptional kitchen isn't short of brilliant functional features. Housing both the hob, sink and luxurious wine cooler, the kitchen island plays an essential role in achieving a brilliant practical layout. As well as providing a great space to prepare food and socialise with guests, the island offers plenty of easily accessible storage. Further handy storage is established by the pantry/utility room, which is cleverly accessed via a hidden door integrated into the sleek bank of tall units. This fun detail makes a great addition to our client's family orientated home.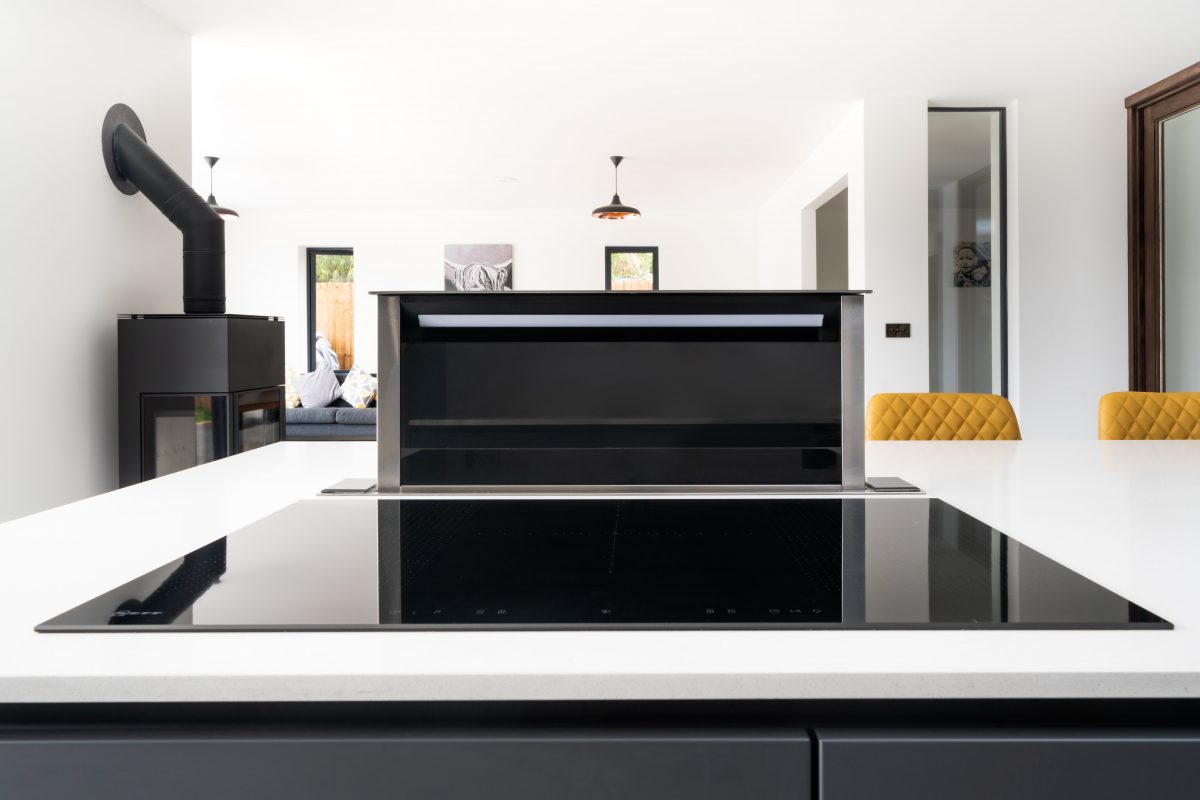 The latest state-of-the-art appliances complete our client's outstanding kitchen. Perfect for speeding up cooking and preparing hot drinks, the Quooker boiling water tap is the safest option for all the family. A stunning NEFF American-style fridge freezer offers ample space for keeping food fresh while Neff ovens, hob and downdraft extractor make preparing midweek meals a doddle. A gorgeous wine cooler and coffee machine certainly help keep the daily family routine running smoothly.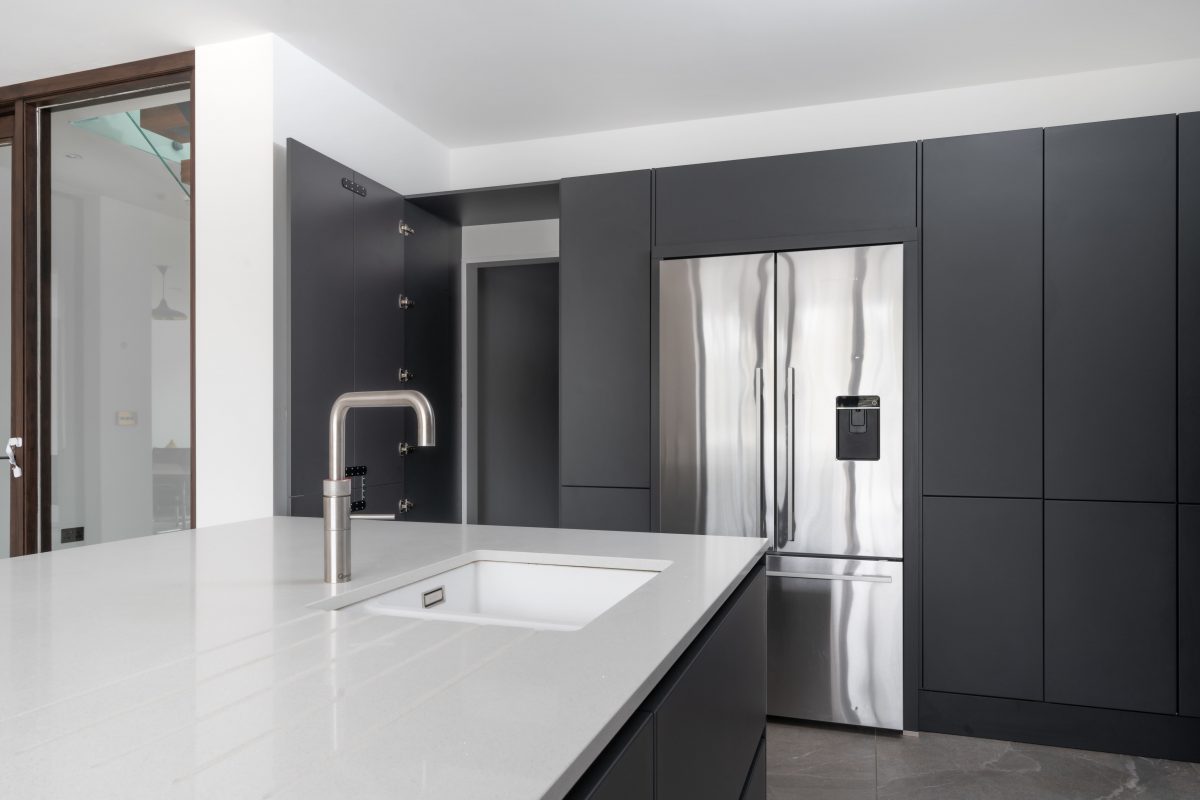 Our wonderful design team dedicated meticulous consideration to every detail of this breath-taking kitchen, creating a stunning and practical interior that undoubtedly goes above and beyond our client's brief. Our Mersea Island clients can't wait to make many happy memories in their gorgeous new space.
If you'd like to know more about this exceptional bespoke interior, please don't hesitate to get in touch. We'd love to discuss the ideas you have for your latest home renovation project. You can give us a call on 01206 673 920 or email us at info@colchester-kitchens.co.uk.