The kitchen is one of the most versatile rooms in your home. As well as offering a place to cook and prepare food, it often provides a backdrop to social gatherings alongside a host of other family activities. And getting your kitchen lighting right is crucial to ensuring your space meets all these different needs.
Here at Colchester Kitchens & Bathrooms, we've been designing wonderful bespoke kitchens for many years, and one thing we always discuss with our clients at the very beginning of their project is lighting. Kitchen lighting isn't just important in terms of practical visibility, it can also have a dramatic impact on the atmosphere of your space. And planning your lighting at the beginning of the design process is essential if you're going to get the most from your project.
Whether you choose to introduce lighting to your cabinetry or create a feature in the middle of your room, the electrical work will need to be planned well in advance if your project is going to run smoothly. So, to help you get a head start on developing your perfect kitchen lighting scheme, we've answered some of your top questions.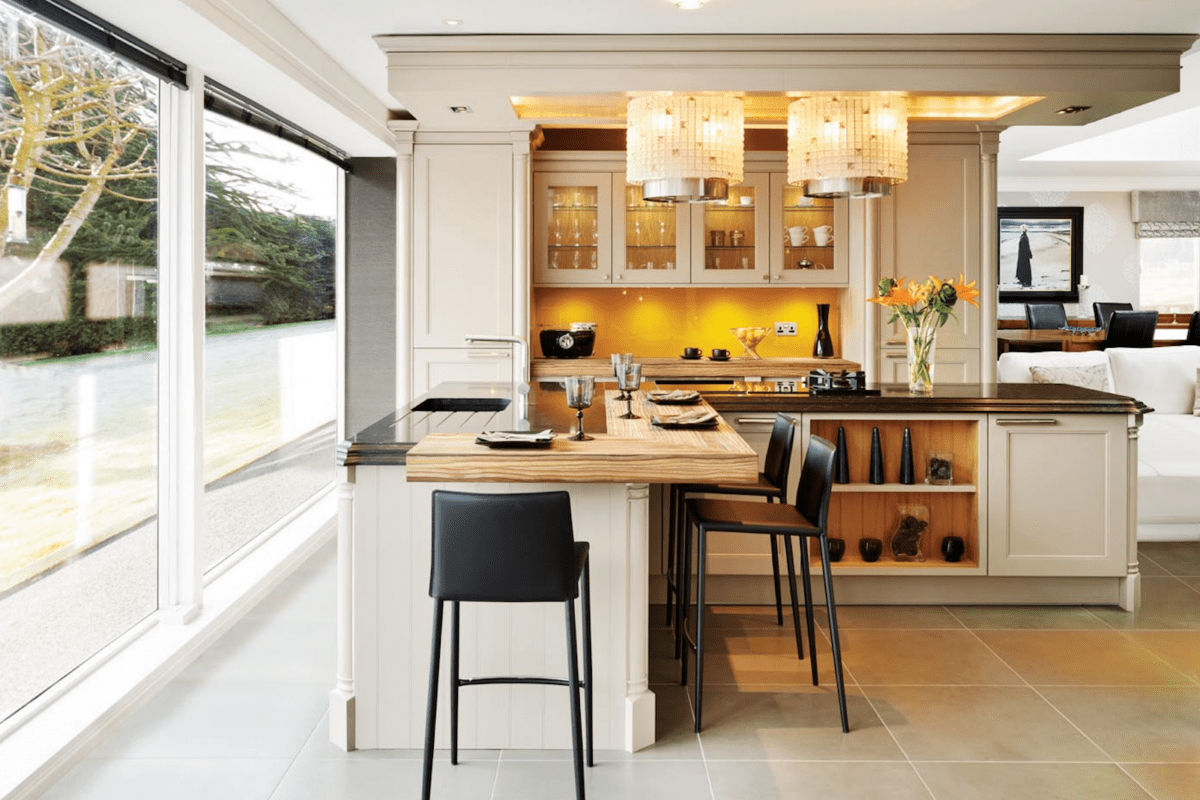 What Are The Main Types Of Kitchen Lighting?
Kitchen lighting can be broken down into three main types. These are ambient, task and accent. Each type plays a different role, though they can sometimes overlap. The best way to achieve an effective kitchen lighting scheme is to include a range of lighting types.
Ambient lighting should illuminate your whole room clearly. Natural light and artificial ceiling lighting are the two main forms of ambient lighting.
Task lighting is more directional and should provide the visibility needed to undertake more detailed tasks such as chopping food or reading a recipe. Undercabinet lights and pendant lights are popular types of task lighting. Their stylish looks mean they can also fall under the category of accent lighting.
Accent lighting is intended to create an attractive design feature. Pendant lights, shelf lights, plinths lights and internal cabinet lights all make lovely accent lighting features.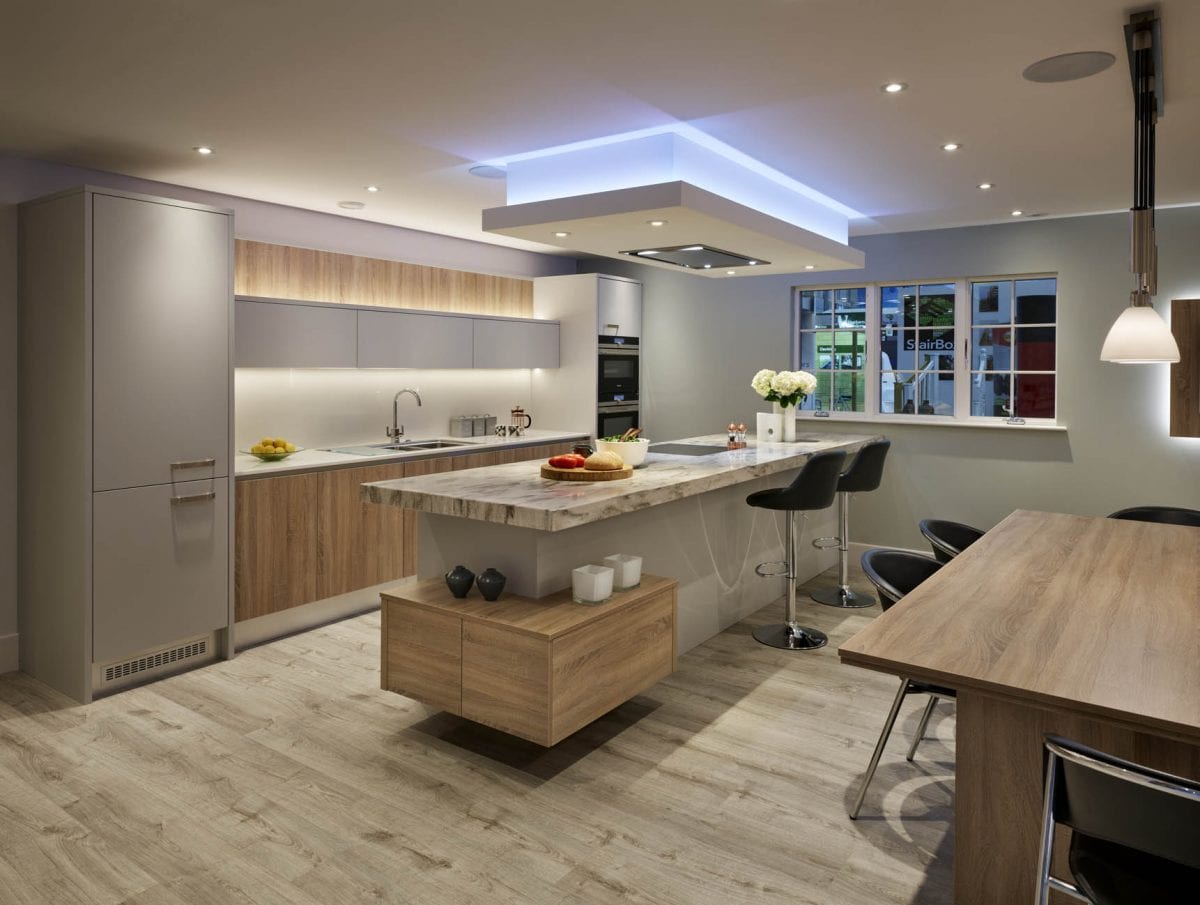 What Styles of Light Work Well In A Kitchen?
As the heart of your home, your kitchen should reflect your individual style and personality. And what's more, if your design is going to truly stand the test of time, choosing the lighting pieces you love rather than simply following the latest trends is essential.
When it comes to practicality, recessed LED downlights make a great solution to simple overhead lighting. Though they are undoubtedly ideal for any room with low ceilings, their sleek, unobtrusive looks complement all interiors. Alternatively, clean and minimal track lights can make a good option.
Slimline LED strips are ideal for illuminating plinths, handleless rail systems, shelves, cupboard internals and beneath wall cabinets. Many kitchen manufacturers offer their own designs. You can ask your kitchen retailer for more information.
Last but not least, pendant lights are one of the most popular kitchen lighting styles. They come in a fantastic range of shapes and colours, making them perfect for enhancing your design and adding a personal touch.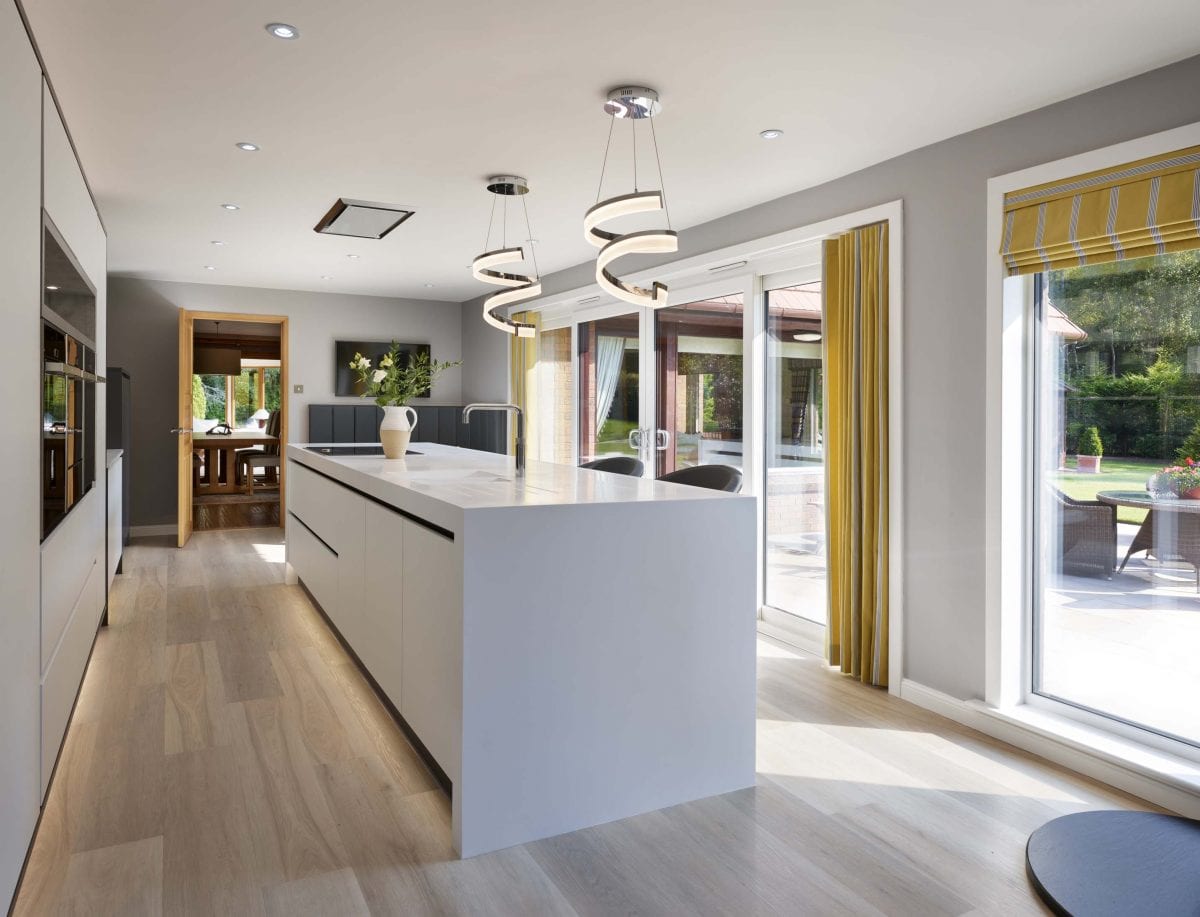 Where Should You Position Your Kitchen Lighting?
When deciding where to position your kitchen lighting, you will need to take both practicality and aesthetics into account. A good way to start is to address any areas that lack natural light, prioritising places you intend to use for practical purposes such as worktops, a kitchen island or a dining area. Recessed downlights should be positioned to give good visibility throughout your space, while pendant lights and task lights are perfect for highlighting practical areas.
Once you have prioritised these, you can refer to your kitchen plans to capitalize on any lovely design features that could be accentuated with lighting, such as glass-fronted cabinets, alcoves or shelves. Bear in mind that the style and size of your kitchen could affect your choice of lighting. For example, while pendant lights can make a stunning feature, if you have low ceilings or a compact layout, they can get in the way, making your room appear smaller. Likewise, though LED strip lights can add a charming glow when positioned under cabinets, introducing lighting above your units, along plinths and around shelves could overwhelm a more traditional interior.

What Colour/Temperature Light Is Best For Your Kitchen?
Warm white is the most popular kitchen lighting colour/temperature. Most retailers will label 3000k as warm white and 4000k as cool white. Warm white tends to flatter most colour schemes without looking overly cool or too yellow. They are well suited to traditional kitchen styles and beautifully emphasise a luxurious woodgrain. Warm white lights will also add a subtle cosy touch to a modern monochrome design. However, if you prefer to accentuate your cool, cutting-edge interior, you might find the colder tone of a 4000K bulb better suited to your project.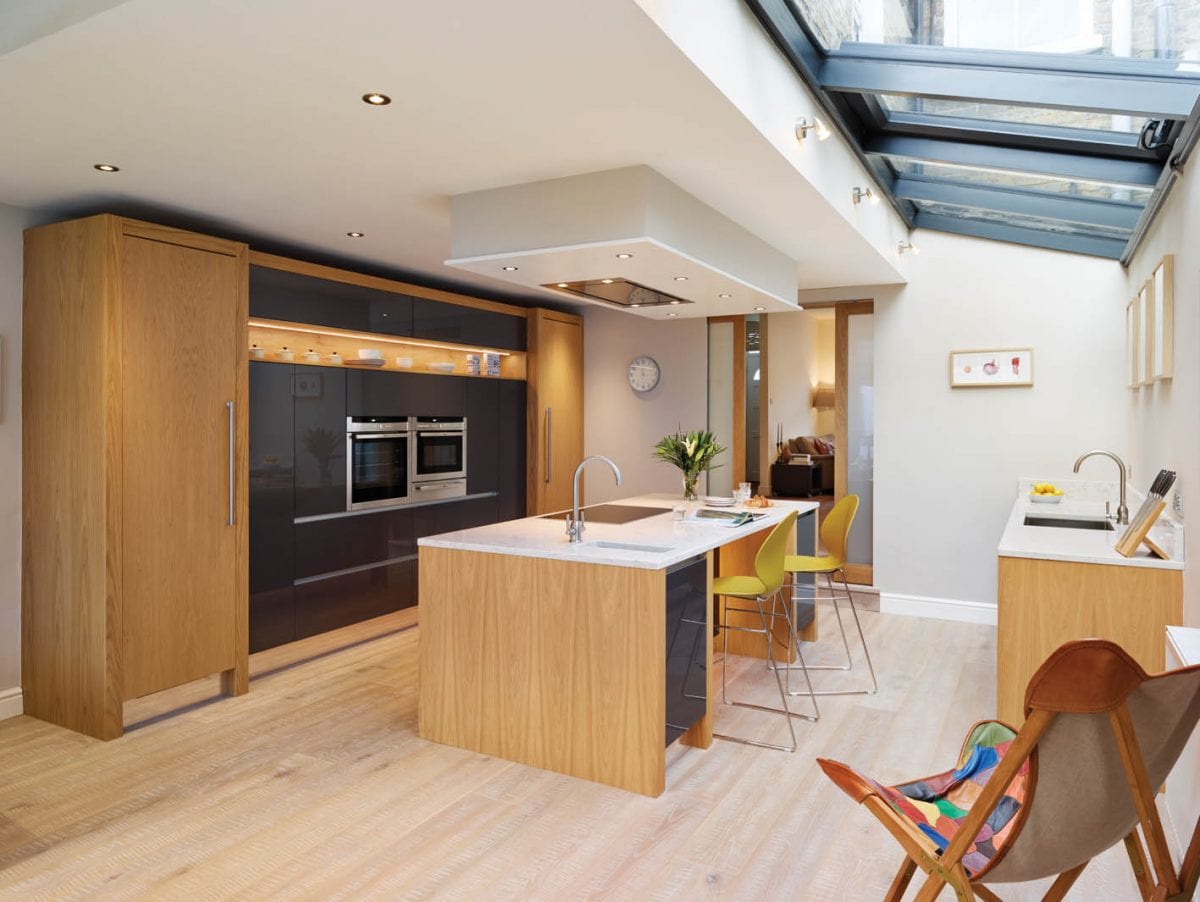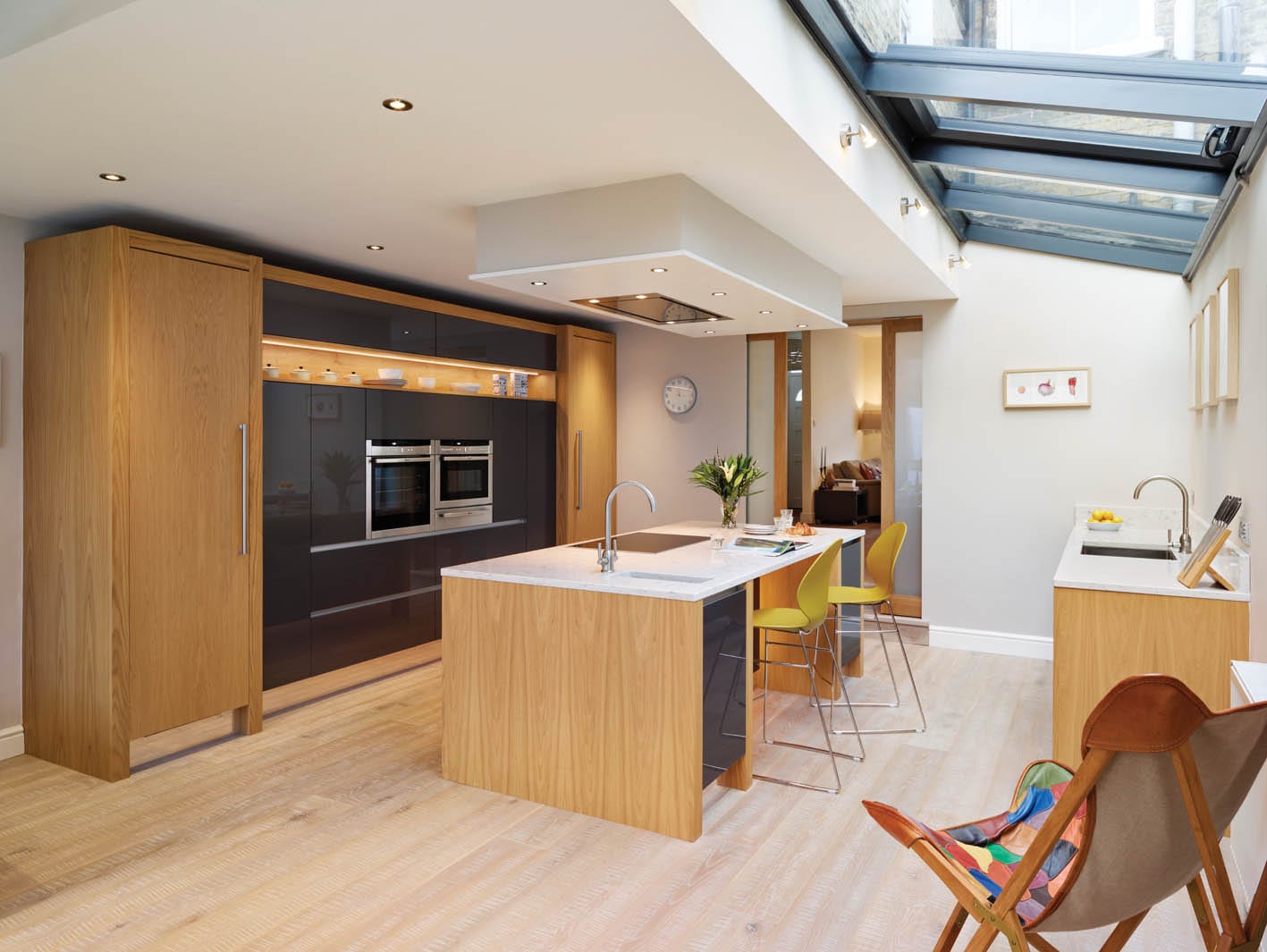 How Can You Bring More Natural Light Into Your Kitchen?
Getting plenty of natural light into your kitchen is undeniably the best way to make your room feel bright, airy and spacious. However, increasing the amount of natural light entering your space can require a little additional thought. Where possible, introducing a skylight or replacing your windows with a larger frame makes the best solution. If significant structural changes are out of your budget, consider opting for a fresh colour scheme with plenty of bright or neutral tones and be sure to compensate with a fantastic artificial lighting scheme.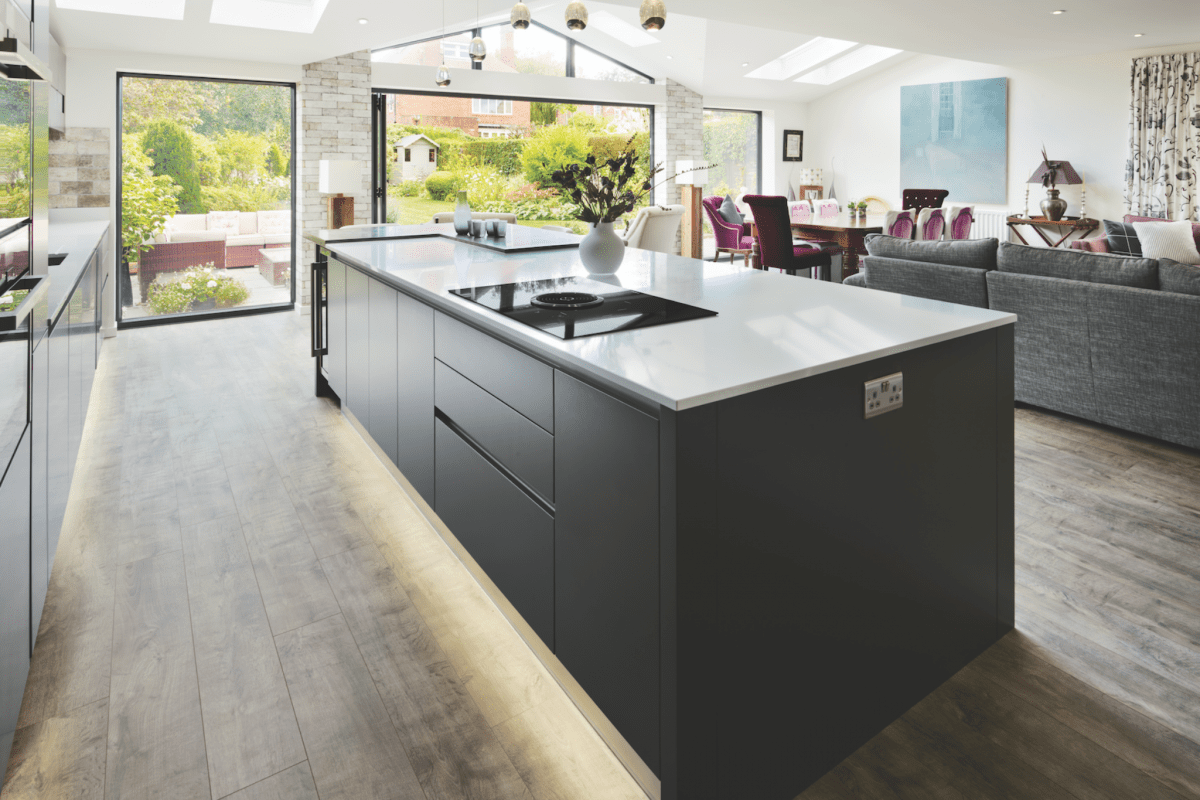 From creating a cosy and inviting atmosphere to making sure you can see clearly, lighting plays a vital role in your kitchen. Planning your lighting sooner rather than later is the best way to ensure your plans complement your kitchen design and live up to expectations in the long run. We hope answering some of your questions has helped shed some light on the design process. However, if you'd like to know more, please don't hesitate to get in touch with our friendly and knowledgeable team by calling 01206 673 920 or emailing info@colchester-kitchens.co.uk.