With its place firmly at the heart of your home, the kitchen provides a setting for a whole host of activities, from preparing midweek meals to sharing celebratory drinks with friends, and as such, it should undoubtedly create a stunning backdrop for every occasion. Your Essex kitchen is an important place to showcase your individual style and personality, capturing the unique atmosphere that makes your space feel like home.
At Colchester Kitchens & Bathrooms, we specialise in designing and installing luxurious bespoke kitchens across Essex from Braintree to Clacton-on-Sea. Our team are experts in bringing together the key features alongside the all-important finishing touches to create stunning kitchens that establish a beautiful focal point to your Essex home. To give you an insight into the world of our talented designers and to help you find inspiration for your Essex project we've put together a collection of some of our favourite kitchens for you to explore.
Bright & Sophisticated Sudbury Kitchen
This wonderful interior combines classic elegance with contemporary styling and a bold pop of colour to create a kitchen bursting with character and energy. The contemporary yet classic look of this kitchen is incredibly versatile, perfect for any Sudbury home, whether your property is more modern or traditional. The simple detailing of shaker-style cabinets provides a fantastic canvas allowing you to create a really personal design. In this kitchen, the elegant grey colour scheme evokes sophistication and luxury while the warm accent blue brings a vibrant contemporary edge. Modern pendant lights and industrial metal bar stools meet a lavish marble backsplash bringing together a clever balance of styles. This bright and airy yet elegant kitchen is ideal for families and certainly wouldn't look out of place in either a rural retreat or Sudbury townhouse.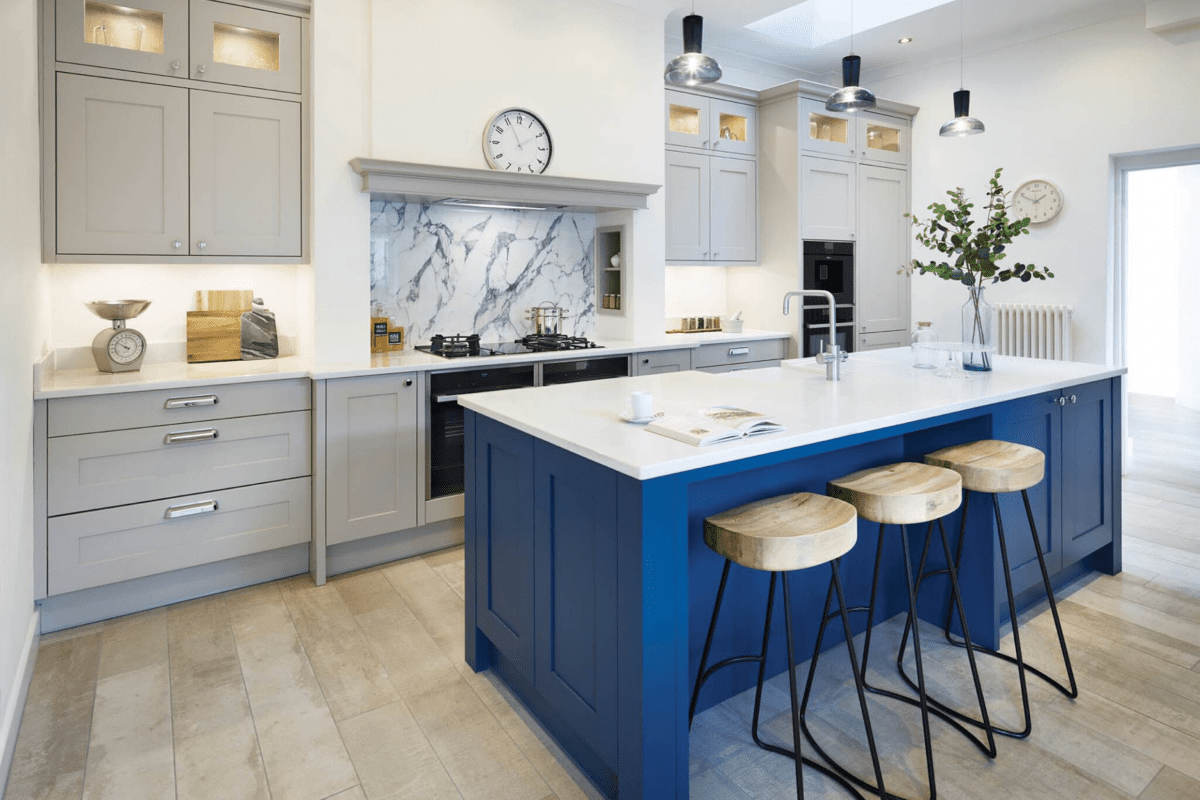 Cool & Contemporary Braintree Kitchen
This sleek and stylish interior is perfectly suited to a cool and contemporary Braintree home. Handleless kitchens have become increasingly popular in recent years and make a great choice for those who prefer a more minimal aesthetic. Despite their distinctly modern looks, the fantastically practical handleless kitchen can create a truly timeless backdrop in any Braintree home. In the kitchen below, a striking dark monochrome palette is offset by a soft matt surface finish giving an altogether more elegant and understated look. However, this kitchen isn't without its glamorous features. LED lighting surrounds the bank of units and sits above a bespoke alcove to create an inviting luxurious glow while rose gold detailing brings a subtle touch of femininity

Charming Marks Tey Country Kitchen
With the charming village of Marks Tey just down the road from our showroom, we couldn't overlook one of our team's favourite classic country kitchens. The star of the show in this beautiful and inviting interior is the exquisite colour palette. The graceful beige hue of the cabinetry ties in seamlessly with the earthy tones of the stone floor and the exposed brick feature wall, with a bespoke oak shelving alcove adding a rustic touch. A stunning range oven, American-style fridge-freezer and classic ducted cooker hood give this kitchen a wonderfully homely sense of character. Marks Tey is just one of many picturesque villages in our local area, a classically elegant and charming country-style kitchen is a fantastic choice for many of our clients.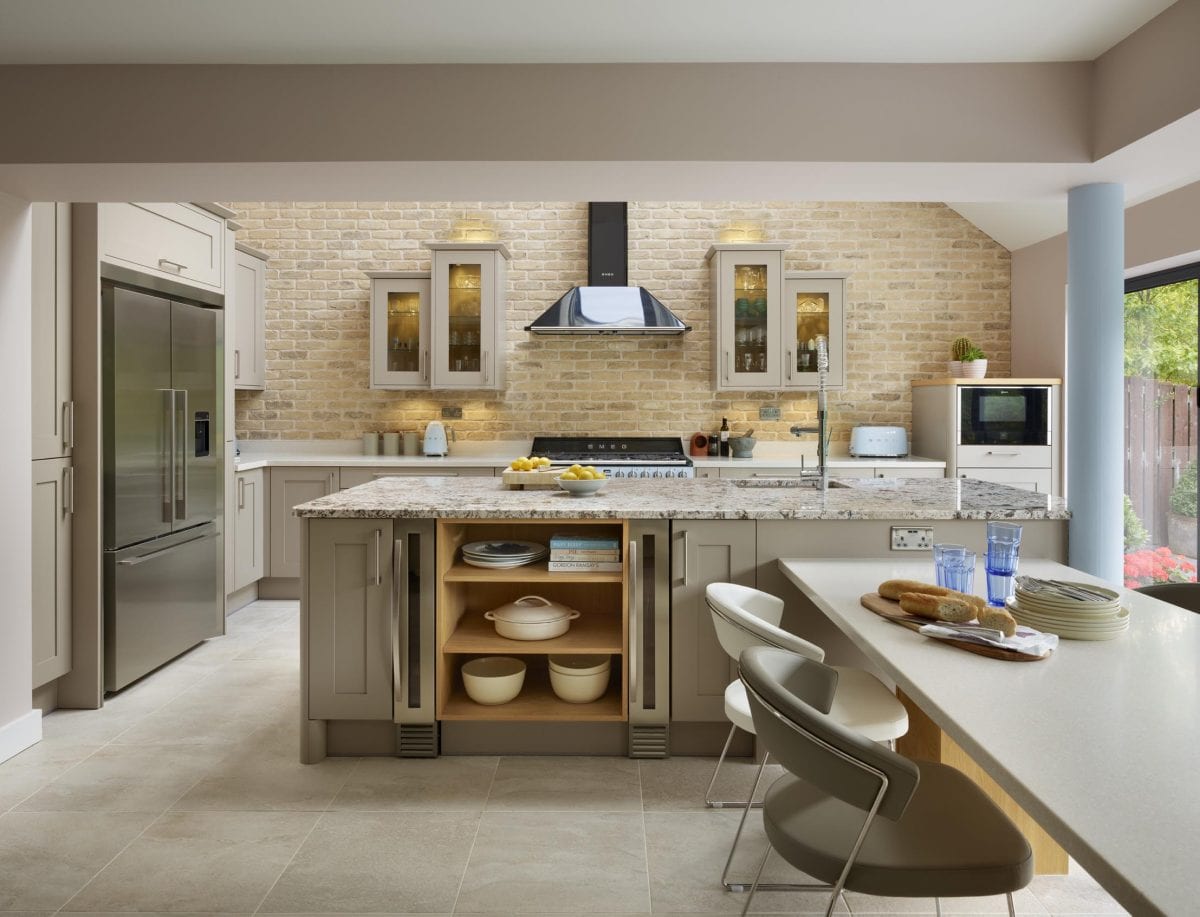 A Coastal Inspired Clacton on Sea Kitchen
When you think of a seaside-inspired kitchen you might begin imagining pastel blue colour schemes, deck chairs and seashells. However, if you'd like to bring a touch of the coast to your Clacton-on-Sea home without the cliches, why not consider a much more stylish contemporary design? This stunning modern handleless kitchen pairs fresh grey tones with natural wood grain surfaces to create an inviting contemporary setting. Mottled stone worktops and splashbacks emulate the appearance of crashing waves while carefully placed blue lighting adds a subtle aquatic touch. Introducing natural materials into your Clacton-on-Sea kitchen design offers amazing potential to complement your home as well as reflecting your own unique sense of style.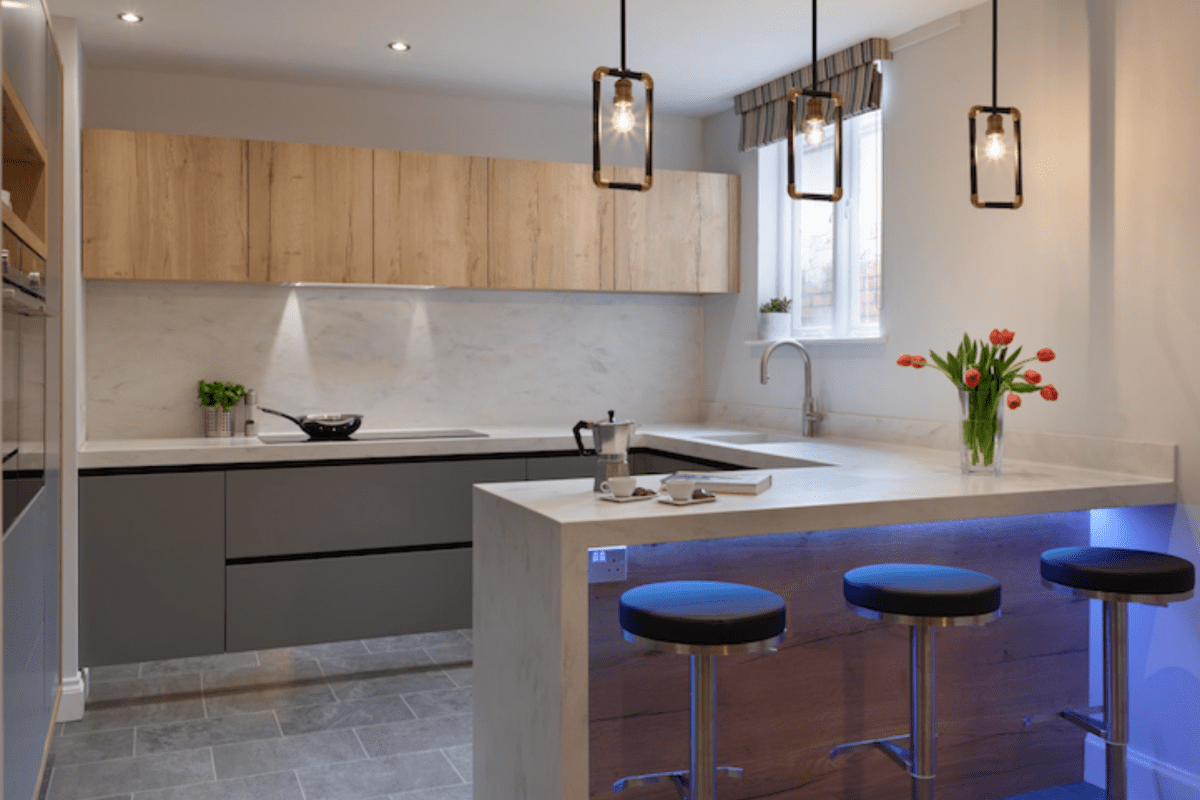 From finding the perfect colour palette to deciding on a style of furniture, when it comes to creating a bespoke kitchen to suit you and your Essex home, there are hundreds of options to choose from. At Colchester Kitchens & Bathrooms, we've brought stunning interiors to life across Essex in Sudbury, Clacton-on-Sea, Braintree and Marks Tey. Our designers pride themselves on their attention to detail and innovative approach which allows them to bring truly spectacular and unique kitchens to all our clients. If you'd like to find out more about how we can help with your project please don't hesitate to get in touch, you can call us on 01206 673 920 or email info@colchester-kitchens.co.uk.