2020 is a year most of us probably won't forget, if anything spending so much time in our homes has given us an opportunity to really think about how we use our spaces, and we can expect to see this reflected in kitchen design trends this year. At Colchester Kitchens & Bathrooms, our team of experts creates beautiful interiors that are designed to stand the test of time, however, looking to the latest trends can be a great place to find inspiration and get ideas for your project. With this in mind, we've put together some of the key features we expect to see introduced into our kitchens in 2021.
The Concealed Kitchen
A Minimal & Clean Aesthetic
Taking inspiration from the German school of thought, the concealed kitchen achieves a perfect harmony of unfussy design and superb functionality. While German handleless kitchens have been on the market for some time, we expect them to really come into their own in 2021. A sleek and beautifully refined aesthetic disguises some of the more overtly functional features associated with a traditional kitchen, making a simply stunning focal point to the home that complements a host of different activities from cooking and working to relaxing and socialising. Clean lines and clutter-free surfaces promote a positive and calming ambience that's both stylish and practical.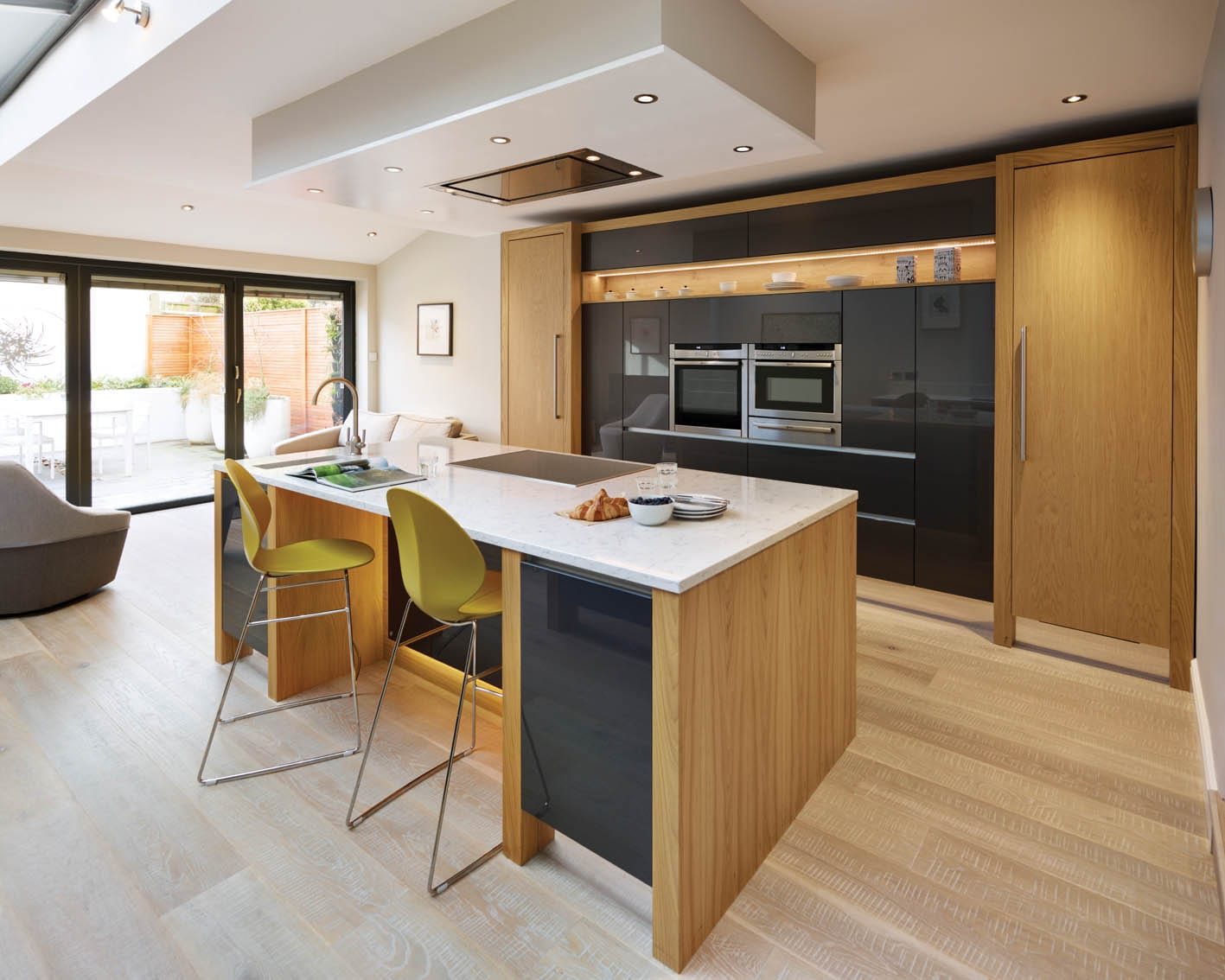 Paired Black Palette
While in the past couple of years we've become much more adventurous with our kitchen colour schemes, the concealed kitchen trend leans towards a much more paired back palette. Matt blacks and anthracite greys make a sophisticated statement, alternatively pair a fresh white finish with softer greys, neutral navy or natural woodgrain accents.
Hidden Appliances
To enhance its minimal and harmonious aesthetic, the concealed kitchen provides innovative storage solutions to seamlessly stow small appliances and other items out of sight. Deep drawers and banks of full-height tower units offer amazing storage potential so that not only does this kitchen look stunning but is incredibly convenient and easy to use.
Mix & Match Interiors
Varied Colour Schemes
In 2021 we're going to see a much more playful yet complex design language filter into our kitchens. Gone are the days when everything had to match; a more sophisticated approach to kitchen design contrasts different colours, finishes and styles to add depth and visual interest to the space. Each colour and texture should work together to accentuate the other's qualities. To achieve this, consider opting for a two-tone colour scheme with a more dramatic hue situated below the eyeline on a kitchen island for example. Splashbacks are also a wonderful place to introduce personality with a dazzling colour, texture or pattern. Bar stools, pendant lights and other decorative accessories also offer the potential to introduce accent colours and different design styles.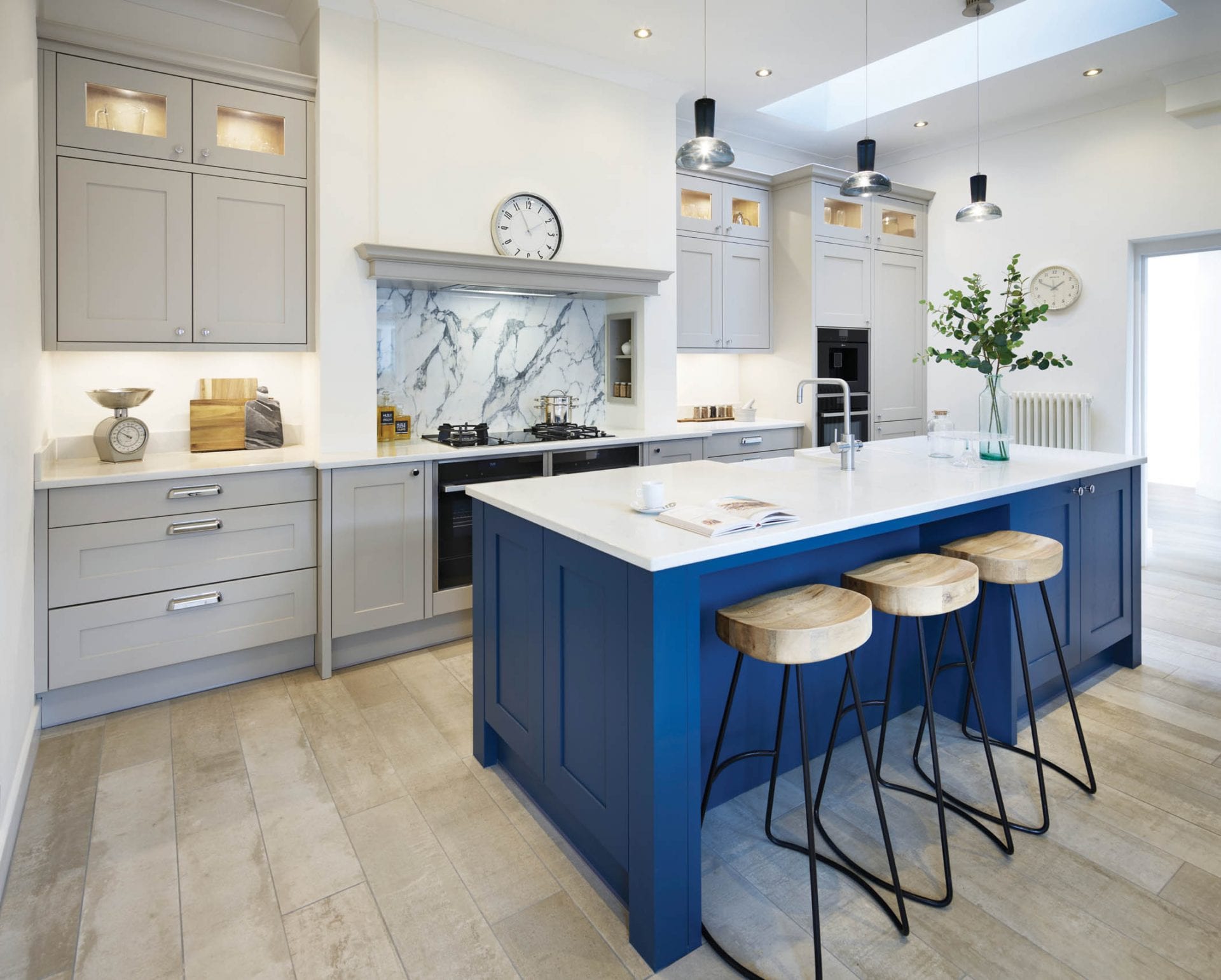 Natural Materials
Natural materials play an important role in this new mix and match approach to kitchen design. They offer a vital way to introduce spectacular textural details to our home while their organic quality makes a space feel inviting and homely. Marble is a popular choice with our clients who want to add a touch of luxury to their design, the unique pattern brings a beautiful sense of movement. Natural wood accents make a stunning addition to any space providing wonderful warmth and character.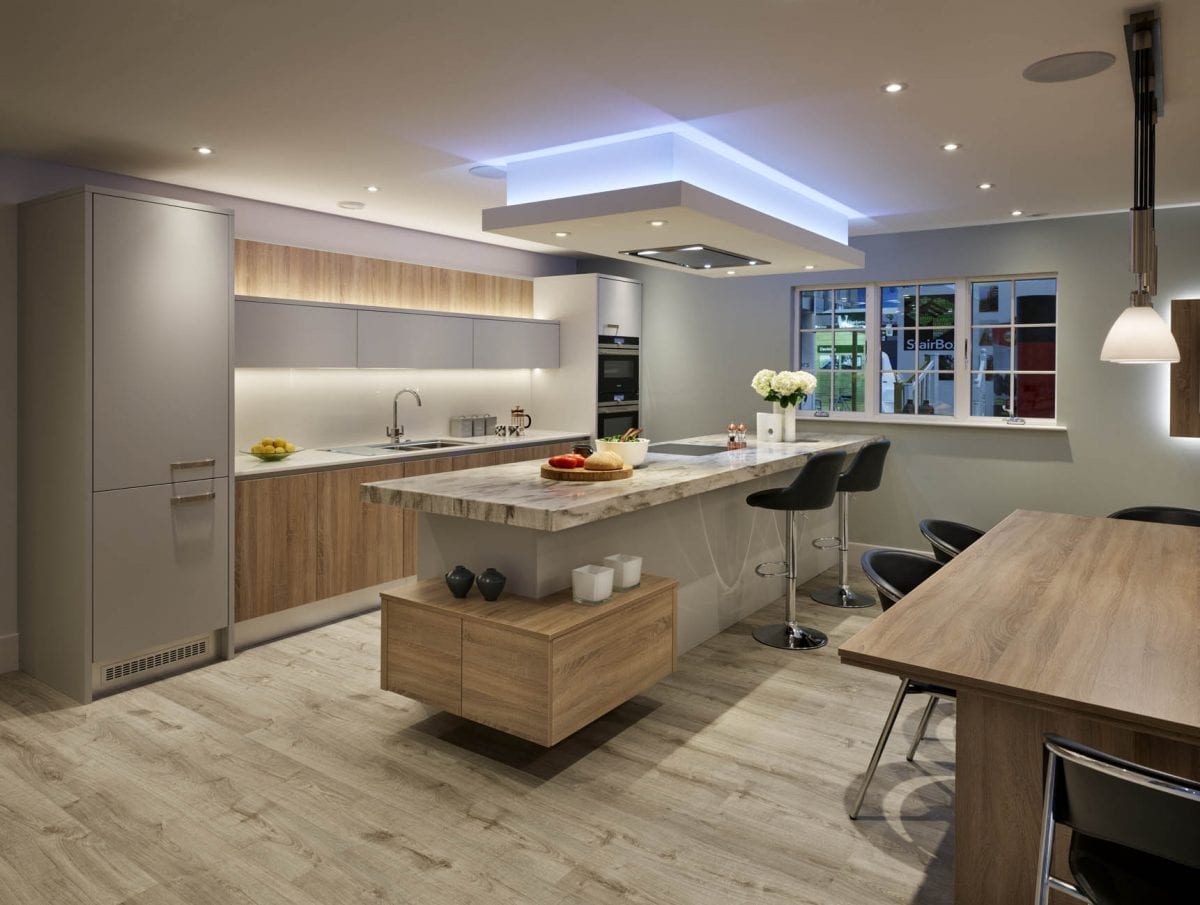 Practical Kitchens
Multiple Zones
It goes without saying that all kitchens must be practical, but with many of us finding ourselves regularly sharing our spaces with more people than usual, the layout of our kitchens has been at the forefront of designer's and homeowner's minds alike. The concept of zoning will play an important role in kitchen design in 2021, it involves establishing areas for specific tasks within the kitchen such as food prep, as well as creating broader zones for socialising, relaxing or working. Kitchen islands continue to be a great asset to our kitchen layouts and recently the ever-popular island has evolved into the dining island, combining the concept of a breakfast bar with a more traditional dining table to provide a fantastic multifunctional feature.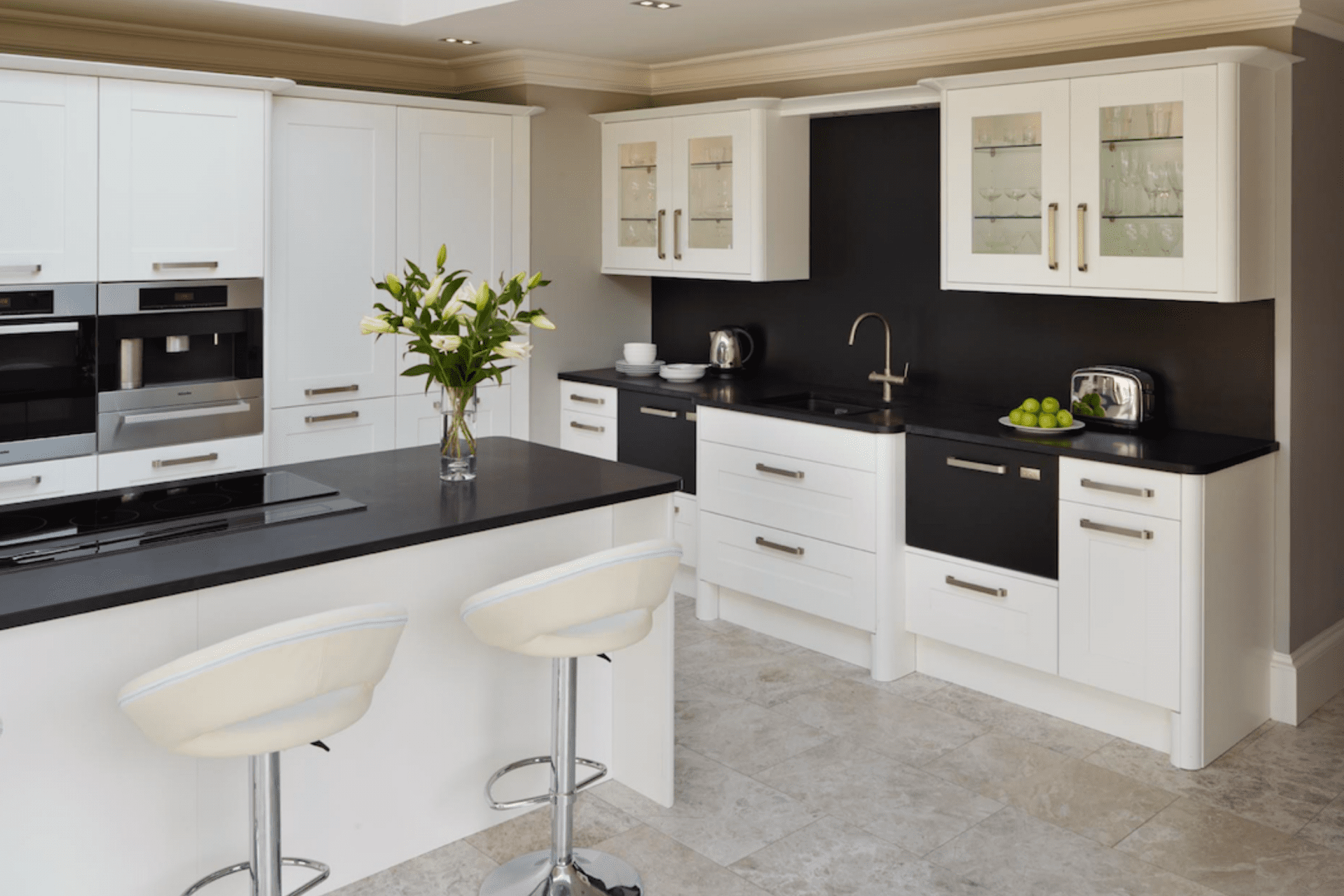 Smart Appliances
Technology continues to find new ways to improve our homes and lifestyles. Smart appliances that allow you to control everything from your oven to your washing machine are already transforming our homes and will continue to do so in 2021. New integrated extraction systems are quieter and more efficient than ever before, presenting amazing design flexibility. The benefits of the safe and sustainable boiling water tap are also gaining recognition. Be sure to keep an eye out for the latest technological innovations transforming our homes in 2021.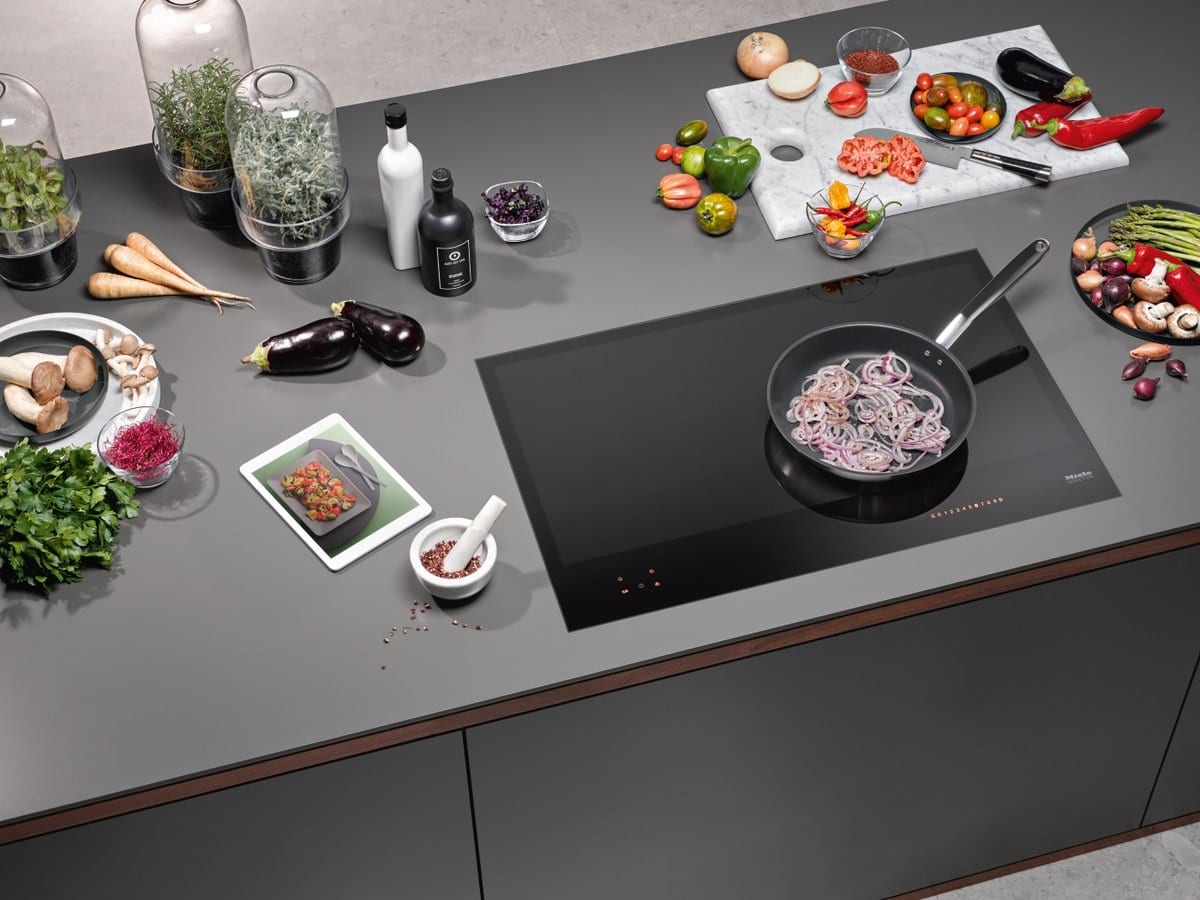 If you've been inspired by the latest kitchen design trends and have an idea you'd like to discuss including in your new project, then don't hesitate to get in touch with our design experts. You can call us on 01206 673 920 or email info@colchester-kitchens.co.uk.