Brimming with stunning bespoke features and gorgeous details, our latest Colchester kitchen project is certainly one we'll remember for many years to come.
The project started with our client's desire to introduce pink to their colour scheme. While working with such a distinctive colour in a large space, it was imperative that we created a tasteful and understated design that captured our client's personality, making a stunning impact while not overwhelming or dominating the interior. Our experienced designer sourced a beautiful curtain fabric which made a great impression on our client and became the starting point around which the rest of the design would gradually come to life.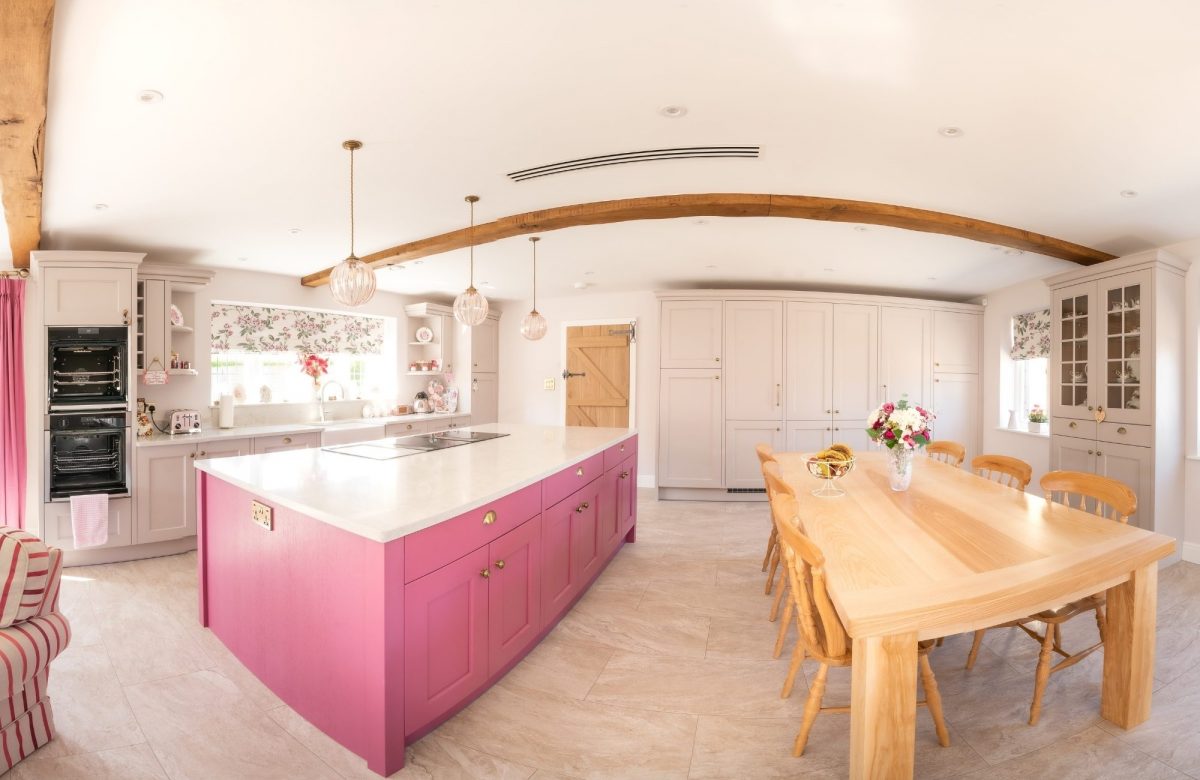 The deep rose-pink hue takes centre stage on the spacious kitchen island. Highlighted by a trio of exquisite, tinted glass pendant lights, the breath-taking island perfectly complements the generous proportions of the room, providing the ideal canvas for our beautiful colour choice. The rest of the Trewick traditional oak cabinetry is painted in a gorgeous Cashmere shade with subtle pink undertones which sits perfectly next to the bold pink accent hue. A stunning marbled stone floor sweeps through the room, establishing a subtle yet luxurious base tying this strong colour scheme together.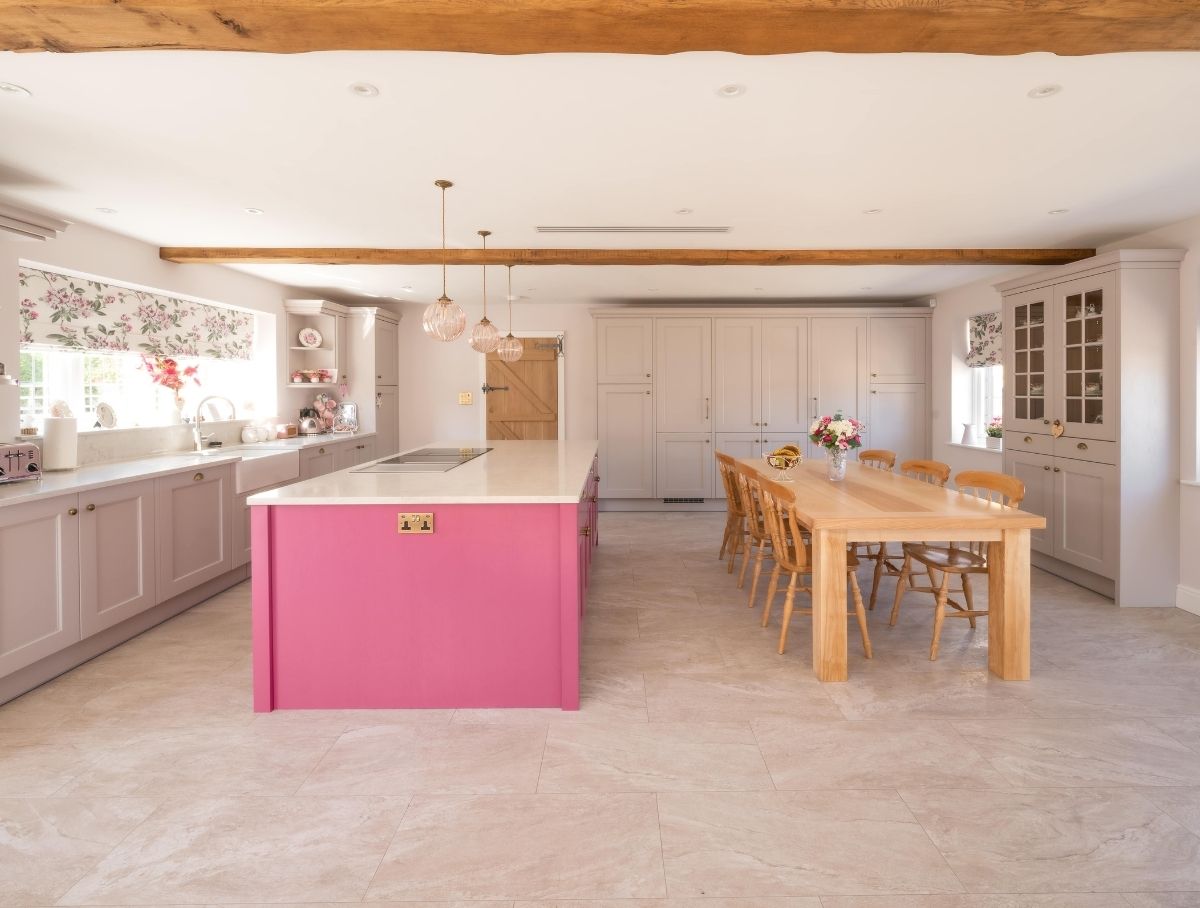 The immaculate classic shaker furniture plays an essential role in establishing the inviting homely atmosphere of this kitchen, bringing both luxury and character to the large open-plan living area. Our client was keen to include a fantastic Butler style pantry cupboard in her space which we designed with a custom internal layout to specifically suit our client's storage requirements. We also crafted two bespoke glass-fronted cabinets featuring beautiful integrated lighting which we cleverly introduced in order to display our client's collection of fine china and glassware to stunning effect. Every detail has been meticulously considered right down to the elegant antique brass handles and matching plug sockets and light switches.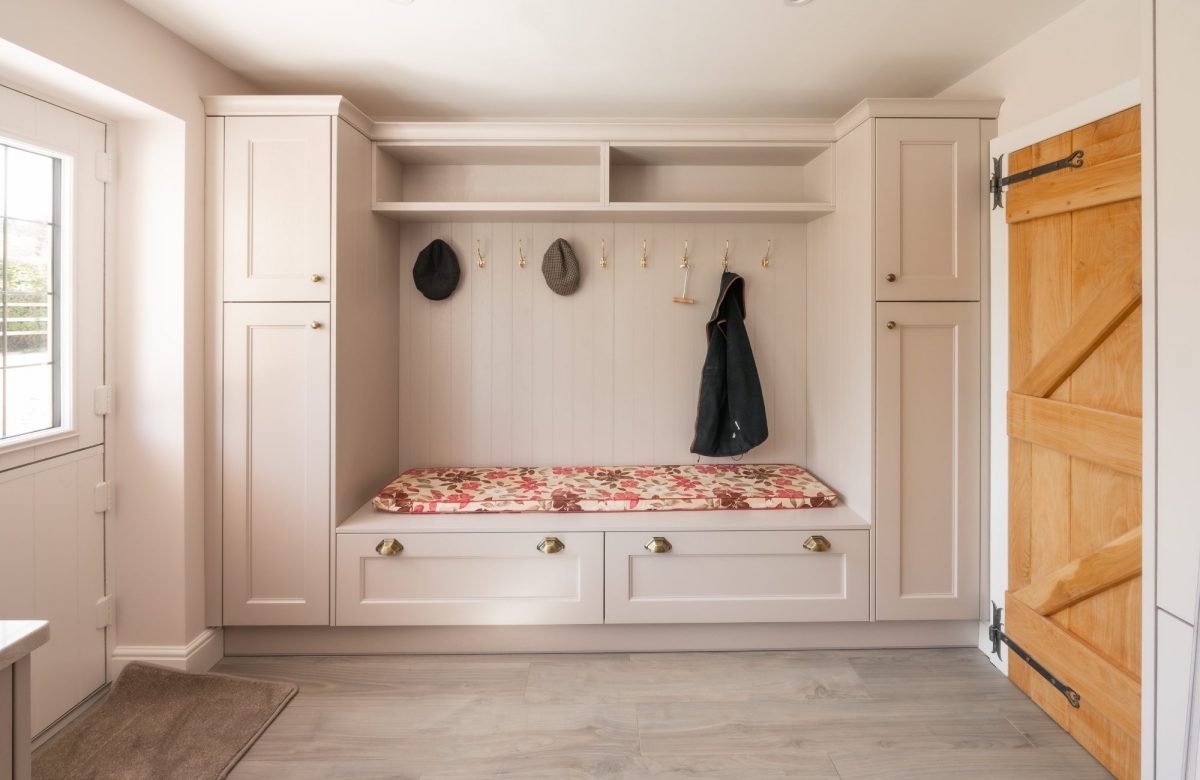 Fusing authentic traditional features with exceptional modern functionality was a key part of our client's brief. The charming Villeroy and Boch double butler sink makes a wonderful classic detail while a state-of-the-art Quooker boiling water tap ensures maximum efficiency. The cutting-edge piece de resistance in this bespoke Colchester kitchen is the extraordinary Bora induction hob. Featuring not one but two venting extractors, two induction zones and a fantastic Tepan cooking plate, our client was absolutely over the moon with the truly sensational functional capabilities of their new kitchen.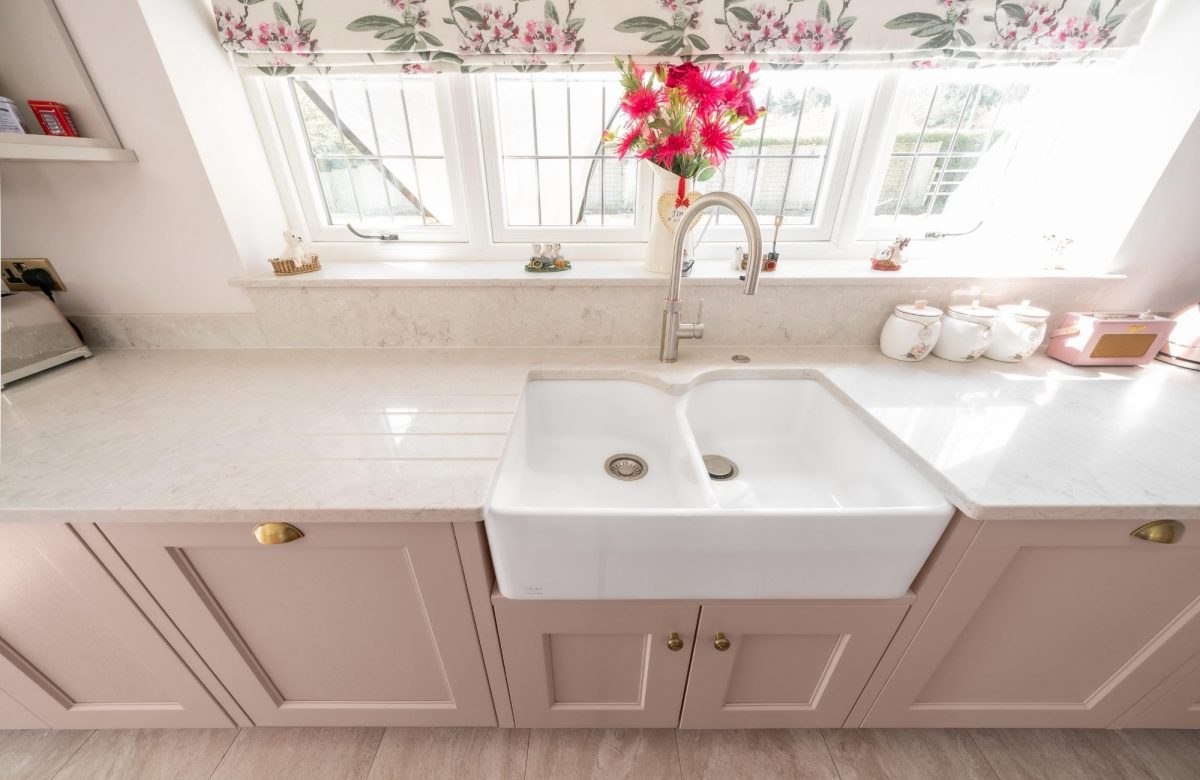 This breath-taking project also incorporated a boot room utility which has been designed and installed with the same impeccable attention to detail and superb standards of quality. The style is in keeping with the main kitchen and makes for a showstopping introduction as you enter the property.
From establishing a stunning original colour scheme to crafting a range of bespoke furniture, this Colchester kitchen undeniably delivers a unique, practical and luxurious interior that's sure to be loved by our client for many years to come. We dedicated a great deal of meticulous care and attention to this project and our team couldn't be more delighted with the stunning end result.
If you'd like to find out how Colchester Kitchens & Bathrooms can help to make your new kitchen a reality, then please get in touch by calling our friendly team on 01206 673 920 or by emailing info@colchester-kitchens.co.uk.